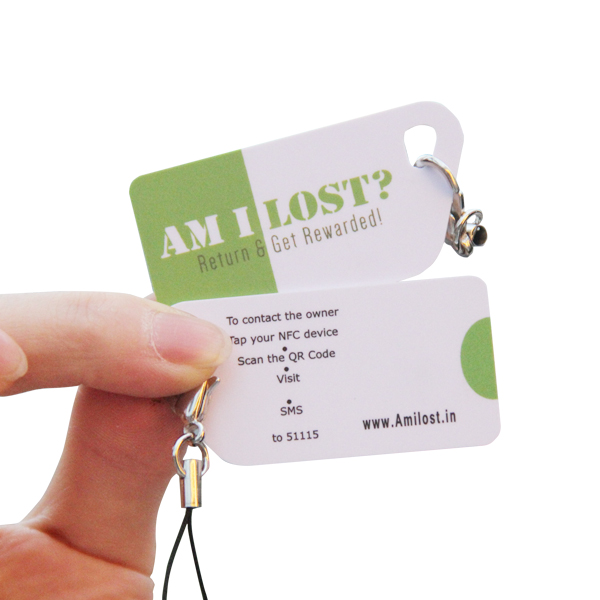 Customized shape RFID card, the size can be customized as customer request. Can be embed LF, HF or UHF chip.

Each rfid card have a unique seiral number. It is great solution for access control (keytag), Public transportation, Electronic toll collection, Loyalty cards, Event ticketing, Car parking, Electronic ticketing in public transport, Road tolling, Airline tickets, Home automation and appliances, Consumer electronics, Healthcare, Printers, Smart meters, Library and rental services, Healthcare, Ski ticketing, Asset management and smart shelf solutions, Factory automation etc
We manufacture both blank card, and pre-printed rfid card.
They all have an integrated circuit (IC) and antenna inside of them.
Data is transferred via this antenna.

Item name
Customized Size RFID Card
Dimensions
Customized size, thickness more than 0.8mm
Material
PVC, PET, ABS, PAPER
Card Surface
Matte/ glossy/frosted lamination
Printing Option
Full color offset printing
Silk-screen printing
Silver/Gold silk-screen printing background
Options
Magnetic Stripe Option: 300oe, 2750oe, 4000oe
Numbering:Jet dot/ Thermo transfer/ Laser engrave/UV numbering
Barcode printing
Signature panel
Hot stamp:gold,silver,green,red,blue,etc
UID:number printed
URL,text,number.etc encoding/lock to read only
Chip options
LF chip: TK4100, EM4200, EM4305, EM4450, T5577
HF chip: Ultralight, Ultralight C, NTAG213, NTAG210, NTAG21, NTAG216, Topaz 512, MF1S50, FM11RF08, ISSI4439, TKS50, MF1S70, FM11RF32, ISSI4469, Desfire EV1 2k, Desfire EV1 4k, Desfire EV1 8k Mifare Plus S2K, Mifare Plus S4K, I Code Sli, I Code Sli-S, I Code Sli-X, TI 2K etc
UHF chip: Alien Higgs 3, Impinj Monza 4, UCODE G2XM, UCODE G2IL
Price terms
We accept EXW/ FOB /CNF/CIF price.
Payment term:
paypal, T/T or Western Union.
50% deposit of the total payment before bulk production.
Sample Availability
Free samples are available upon request.
Chip information for RFID card
Chip

Type
Memory

Size
Frequency
Protocol
Description
Manufactuer
TK4100
64bits
125KHZ
11784/85
Read

only
TK
EM4200
64bits
125KHZ
11784/85
Read

only
EM-Marin
EM4305
512bits
125KHZ
11784/85
R/W
EM-Marin
EM4450
1k

bits
125KHZ
R/W
EM-Marin
ATMEL5577
363bits
125KHZ
R/W
Atmel
HID
125KHZ
R/W
HID
Ultralight
64bytes
13.56MHZ
14443A
R/W
NXP
Ultralight

C
192bytes
13.56MHZ
14443A
R/W
NXP
NTAG203
168bytes
13.56MHZ
14443A
R/W
NXP
NTAG210
80bytes
13.56MHZ
14443A
R/W
NXP
NTAG213
180bytes
13.56MHZ
14443A
R/W
NXP
NTAG215
540bytes
13.56MHZ
14443A
R/W
NXP
NTAG216
924bytes
13.56MHZ
14443A
R/W
NXP
Topaz

512
512bytes
13.56MHZ
14443A
R/W
TOPAZ
MF1S50
1024bytes
13.56MHZ
14443A
R/W
NXP
FM11RF08
1024bytes
13.56MHZ
14443A
R/W
FUDAN
ISSI4439
1024bytes
13.56MHZ
14443A
R/W
ISSI
TKS50
1024bytes
13.56MHZ
14443A
R/W
TK
MF1S70
4096bytes
13.56MHZ
14443A
R/W
NXP
FM11RF32
4096bytes
13.56MHZ
14443A
R/W
FUDAN
ISSI4469
4096bytes
13.56MHZ
14443A
R/W
ISSI
Desfire

EV1

2k
2k

bytes
13.56MHZ
14443A
R/W
NXP
Desfire

EV1

4k
4k

bytes
13.56MHZ
14443A
R/W
NXP
Desfire

EV1

8k
8k

bytes
13.56MHZ
14443A
R/W
NXP
Mifare

Plus

S2K
2048bytes
13.56MHZ
14443A/AES

encryption
R/W
NXP
Mifare

Plus

S4K
4096bytes
13.56MHZ
14443A/AES

encryption
R/W
NXP
I

Code

Sli
1k

bytes
13.56MHZ
15693
R/W
NXP
I

Code

Sli-S
2k

bytes
13.56MHZ
15693
R/W
NXP
I

Code

Sli-X
1k

bytes
13.56MHZ
15693
R/W
NXP
TI

2K
13.56MHZ
15693
R/W
TI
Alien

Higgs

3
512bits
860-960MHZ
EPC

Gen

2/6C
EPC

up

to

480

Bit,

TID

64

Bit
Alien
Impinj

Monza

4
512bits
860-960MHZ
EPC

Gen

2/6C
EPC

up

to

496

Bit,

TID

64

Bit
Impinj
UCODE

G2XM
512bits
860-960MHZ
EPC

Gen

2/6C
EPC

240

Bit,

TID

64

Bit
NXP
UCODE

G2IL
512bits
860-960MHZ
EPC

Gen

2/6C
EPC

128

Bit,

TID

64

Bit
NXP