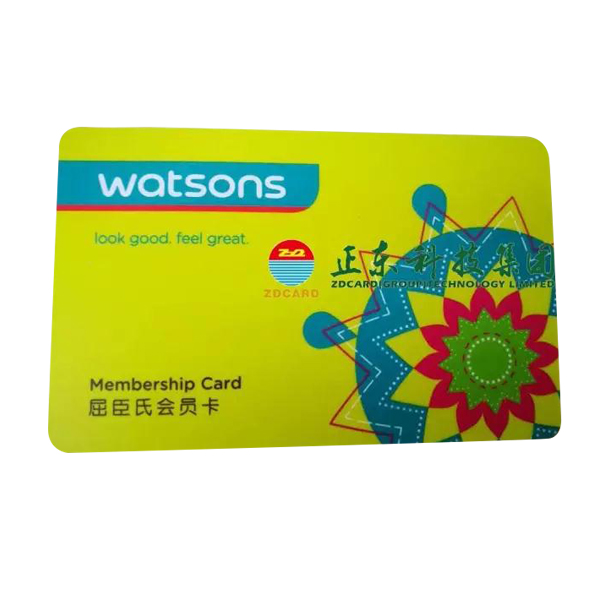 Printing effect of Watsons membership card is very stunning, showing luxuriant nobility.
1. Size: 85.5mmx54mm (card size), 88.5mm×57mm (design size); magnetic strip: 12.7mm high, 4.7mm from edge
2. Thickness: 0.76mm (standard thickness of PVC cards); 0.2mm, 0.38mm, 0.84mm and 1.0mm are available
3. Printing: Offset printing, silk-screen printing, offset+silk-screen printing. (Offset printing refers to CMYK printing, gradient color available; silk-screen printing involves screen print process gradient color NOT available.)
4.Card No.: Transfer print number, inkjet print number, laser number, and embossing number.
5.Color: Color deviation happens during each printing, usually it is around 10%. If sample cards supplied, printing will be based on samples, but the deviation still exists. Silk-screen print gold and silver background needs to be highlighted.
6.Card swiping way: Type of cards could be sort by swiping way---Magnetic strip card, bar code card, chip smart card.
Card with chip called chip card/smart card, common chip is M1 series (e.g. Fudan F08 compatible chip, NXP Mifare Classic 1k S50, etc.)
7.Card surface options: Glossy, matt, and frosted (Surface options produced by lamination steel plate, which is differ from paper cards.)
8.Options: UV spot, signature panel, gold/silver stamping, code printing, encoding, etc.
Packaging: Cards with embossing number or chip---200pcs/box; plain normal plastic cards---250pcs/box.
Weight: 1000pcs standard cards weigh around 6kg.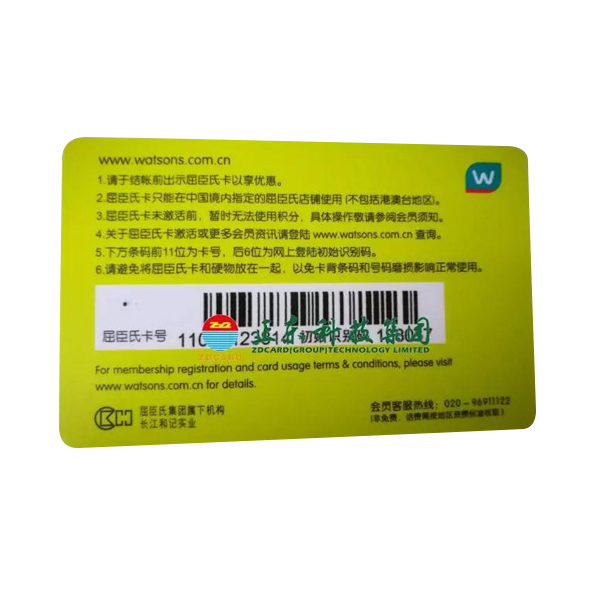 Application
Membership cards can be widely used in every area, such as:
1. Entertainment: Golf, Yacht, Pub, KTV, Cinema, Games room, etc.
2. Membership cards for life service: Airways, real estate, health center, hospital, kindergarten, campus, salon, beauty gift, fitness, club, plastic surgery hospital, wedding photography, travel agent, 4s store, car repair, fuel, parking, etc.
Shipping retail: Membership cards or gift cards for supermarket, department stores, CVS, exclusive shops, book store, boutique, cosmetics stores, pharmacy, etc.
4. Catering membership cards: Restaurant, tavern, hotel, cafe, tea house, habachi, pastry shop, candy shop, etc.