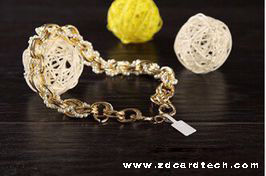 With rapid development and application of RFID technology today, RFID electronic and informational management is the way to strengthen the management of inventory, sales and efficiency. We can bring RFID technology into jewelry management, paste RFID tag for valuable jewelry, and use jewelry inventory equipment installed on the counter to monitor, control and track tagged jewelry for fast inventory, real-time tracking and sales management intelligence. The main applications of RFID in the jewelry field are: inventory, tracking and security and so on.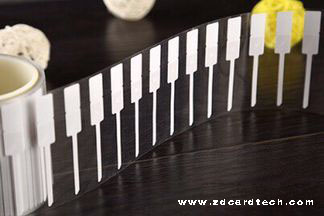 Inventory
Throughout the management of the jewelry industry, most of problems about counter counters exist in the store. Small volume, large quantities. Through the traditional artificial inventory of labor costs, time-consuming, low efficiency, which resulting valuables stolen. The use of RFID technology can be read in batches, greatly speeding up the inventory of jewelry speed, improving store operating efficiency. For example, the inventory time of 6,000 jewelry reduce from 4 days to 0.5 working days.
Tracking
Jewelers use RFID technology through the reader to write the corresponding information for each jewelry product, configure electronic tags with the management software. From inventory of storage to the retail store storage, to achieve a comprehensive track record and management, which simplify the transfer between the retail stores of the attention process and improve work efficiency?
Anti-theft
It's that accurate anti-theft report provides the most detailed and timely loss situation for the jewelers. RFID to achieve the daily shift of the jewelry quick inventory. Based on report, you can accurately understand stolen, misplaced and lost jewelry, so as to minimize losses for jewelers.

The advantage of RFID technology in the jewelry industry:
1) A good customer experience: Informational system will facilitate customers quickly and accurately understand all the information concerned about jewelry through handhold devices . Just read the electronic tag, and related information will be displayed in the store configuration equipment, a key operation to experience the high-tech technology to bring the ease of shopping atmosphere;
2) Real-time security monitoring measures: from jewelry into the store to sell out, RFID technology will be the whole monitoring and protection. Any unusual operation will trigger the system alarm device, so notify the relevant staff in the first time to protect assets from loss;
3) Scientific and effective data mining: records in real-time of the sale information, and according to the purchase or query business for the customer to mining data and analysis of enterprise management procurement, inventory and other decisions to make scientific guidance ;
4) Fast and accurate inventory operation: RFID technology to avoid contact, multi-label read at the same time, penetrating the characteristics of strong will help companies quickly and accurately complete the inventory of goods inventory operations, will significantly reduce the enterprises in the inventory of human, which reduce operating costs, improve management efficiency.
Our website:www.zdcardtech.com