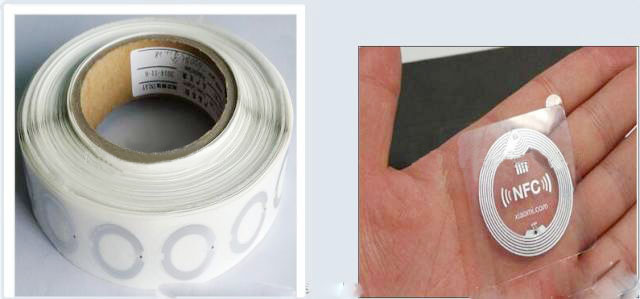 RFID UHF/HF labels, stickers tags, rfid smart card, smart seal/sign, resistance to metal labels, smart wristband, clothing tag, and other special application management and RFID read-write equipment, handheld terminals and related RFID application products. Product is suitable for use in electronics, clothing, food, beverages, building materials, medicine, cosmetic, tobacco, trade, hotel, security, logistics, industrial, commercial, retail, and other areas of the industry. Stickers are very widely used in the advertising, advertising materials, it is a multipurpose are widely applied in commodity labels, bar code, the sealing paste, etc.

Label application:
Packing labels: marks label, letters, packaging, transport of goods, postal parcels, envelope address labels.

Electrical tags: mobile phone inside tags, various kinds of electrical appliances, notebook PC tag, mechanical and electrical products.

Labels, price tags, product labels, shelf labels, bar code label, drugs label.

Manage tags: book tag, car inspection tags, security tags, property.

Office tags: file documents tag, archives preservation, all kinds of goods and stationery.

Production: raw materials inventory labels, labeling, processing product labeling, product management.

Chemical tags: paint material marking, gasoline engine oil product packaging labeling of solvent and various special products.

Anti-counterfeit labels, anti-counterfeiting labels, encryption, tags, security tags.

Jewelry tags, jewelry tags: not easy to paste the tag label on goods.

Clothing label: clothing tag, washing label.

Tags: airport boarding pass and baggage tag.

Ticket label: train tickets, long-distance bus ticket.

Tags: other occasions in the parking lot votes, highway tolls.