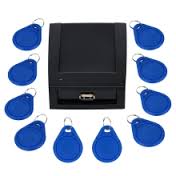 Today, RFID key fobs have gradually become an important necessity for car owners because of the multiple benefits that they deliver. Read this article to find out what key fobs are, how they function, what benefits one gets by using them and how they are making a car owner's life a little easy.

In the past, car key fobs were just simple metallic gadgets that were stamped with the car company's logo. But with time its usage has undergone a change. Now, key fobs are used for activating remote keyless entry systems on vehicles. Few years back, the key fobs operated with the help of infrared and required a clear line-of-sight to function. Most new models use challenge response authentication over radio frequency and do not need line-of-sight to work. Programming them sometimes requires the automotive dealer to connect a diagnostic tool, but most of them can be self-programmed just by following a set of sequenced steps in the vehicle and generally requires at least one working key.

These days' Key fobs are being used increasingly in apartment buildings as well as condominiums for access to common areas such as lobby doors, storage areas, fitness room, etc. They usually contain a passive RFID tag. A fob operates much like a proximity card to communicate with a central server for the building.

Mostly, these key fobs are seen to be used by car owners because of their multiple benefits, they are a great help. A key fob functions like any other basic remote controlled system. The computer chip in the remote creates a unique code that the receiver is programmed to recognize. One good thing about this code is that, it cannot be replicated.
Keyless entry is a fairly new thing but is becoming more and more standard as the technology improves. One can actually unlock the car just by being in the vicinity of the car. It gives the option of starting the car without having to put a key into the ignition, as the keyless entry allows for a push-button start.
Key fobs often have the ability of unlocking the trunk. The trunk opens up completely with a press of the button on the fob and allows one to get things in and out of the vehicle with relative ease.

A key fob can certainly enhance the overall experience of using the car. Whether it is an automatic start feature or a trunk unlock feature, one can get the most out of the car with a key fob. This is also a great way to prevent theft and also to incorporate an automatic keyless ignition system in the car. Luckily, car key fobs or even a key replacement can be easily accomplished. It may be as simple as contacting a local dealer for the vehicle's brand. Even better, one can find an online dealer of replacement car key fobs.

The RFID key fob which is small and nice performance and it is durable. It is easy to take in your pocket as RFID keyring. You can design your own logo and numbers on the RFID key fob. It is water proof , dustproof and durable.
We supply 125 KHz and 13.56 MHz chips for them. Typically chips such as TK4100, T5577,EM4200, MIFARE 1K, MIFARE 4K, ICODE2 etc.

Now you can use the RFID keyfob as different kinds of RFID applications including door access control, parking, time and attendance