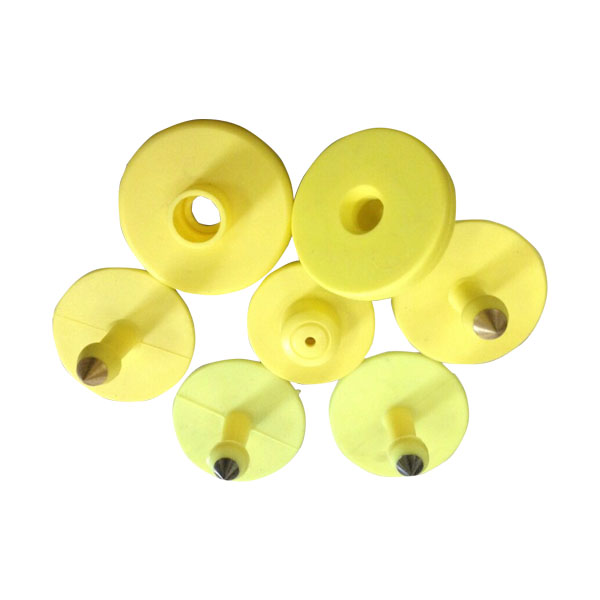 By using RFID ear tag, farmers can automatically identify the operation of the farm, including feeding, weighing, disease management and feeding trials, etc.
RFID ear tag has 2 versions, open and closed, and using the secondary injection molding process which is excellent waterproof and anti-crash. It works with our company's reading and writing equipment, which is convenient to use in the animal breeding and slaughtering management, to identify individual animals.

Material

TPU, PE, PET, PU

Dimension

30*

Height

or Customized

Chip Type

Type 1(LF) - TK4100, EM4200, EM4305, EM4450, ATMEL5577
Type 2(HF) - Ntag203/213/215/216, Topza512, Ultralight, MFS50, FM1108
Type 3(UHF) - Alien H3, Impinj, UCODE G2XM, UCODE G2IL

Operating Frequency

LF/HF/UHF, Read distance: 1-10cm(depends on environment and reader)

Operating Temperature

-30~

Storage temperature

-40~

Processing

Silkscreen logo
Laser / Inkjet serial number, texts, and UID
Laser / Inkjet serial number, texts, and UID
Chip Options
| | |
| --- | --- |
| UHF Chip | Memory Size |
| Alien Higgs 3 | 512bits |
| Impinj Monza 4 | 512bits |
| UCODE G2XM | 512bits |
| UCODE G2IL | 512bits |
Chip

Memory Size 1
(bytes)

User Memory 2
(bytes)

Max URL 3
(characters)

Best Use

Ultralight

64

48

41

Cost effective chip for short URLs in products
(wristbands, keyfobs, etc).

NTAG203

168

144

132

Popular, established all-round NFC chip.
Cost-effective with good memory capacity.

NTAG210

80

48

41

Cheap, general NFC use with short URLs.
Limited availability

NTAG213

180

144

132

Next generation chip, will eventually replace
NTAG203.Great ScanStrength.

NTAG215

540

504

492

The 'one in the middle'. Good memory but
limited availability compared to the NTAG216.

NTAG216

924

888

854

Large memory and full feature set. Higher price
makes it suitable for vCard and
larger memory use only.

Ultralight C

192

148

132

Specialist applications requiring encryption only.
Poor scan distance with mobile phones.

MF 1k

1024

716

710

Legacy applications only. Not recommended
Poor scan distance with mobile phones.

Desfire 4k

4K

4094

2000

Specialist applications requiring strong
data encryption only.

Topaz 512

512

454

449

Universally compatible chip available in only
a limited number of products.
Useful for vCards or small data storage.